Main Page
Jump to navigation
Jump to search
The W8MD insurance physician weight loss program is a clinically proven, evidence-based program that helps patients lose weight and maintain the weight with an ongoing maintenance plan. The program addresses all factors contributing to weight gain and uses a multidisciplinary approach. The sleep medicine program uses cutting-edge technology to diagnose and treat over 80 sleep disorders, such as sleep apnea, insomnia, and restless leg syndrome. The medical aesthetic program offers a wide range of advanced skin treatments and injectables, such as fillers.
Tired of being overweight?

Insurance Physician Weight Loss Program

W8MD's weight loss program has a proven track record of success
Helped thousands of patients lose weight and keep it off.
Launched in 2011, the program is unique and comprehensive.
Address the complex issues that lead to weight gain including insulin resistance.
A team of highly qualified and dedicated weight loss doctors with over 12 years of experience.
Offers a welcoming and hospitable environment for its patients.

FDA Approved Medications Lose weight, sleep well and look your best with W8MD!

Sleep issues?

W8MD can help.

Sleep Medicine Program

W8MD's sleep medicine program provides state-of-the-art technology to diagnose and treat over 80 different sleep disorders, including sleep apnea, narcolepsy, restless legs syndrome, and insomnia. With convenient home sleep studies or in-lab sleep diagnostic studies, patients can receive an accurate diagnosis and effective treatment.

Medical Aesthetic Program

W8MD's medical aesthetics program offers a wide range of advanced laser skin treatments, including oxygen facials, photofacials, radiofraquency microneedling, non-ablative laser skin resurfacing, fillers, and other aesthetic treatments.
With the combination of technology, techniques, and knowledgeable staff, W8MD can customize treatment plans to fit the needs of each patient, avoiding the one-size-fits-all approach.

IM/IV Nutrition

W8MD provides a unique and effective IV/IM nutrition supplementation program to those who are looking to boost their energy levels, metabolism, and support weight loss through IV or IM nutrition.
It is common to face nutritional deficiencies such vitamin B12 even while taking oral vitamins, especially in a nursing home setting, with 39% of those taking vitamins not absorbing the same vitamins they are taking by mouth.
W8MD offers booster doses of essential vitamins like vitamin B12 injections or Lipo B shot, which are delivered through the intramuscular or intravenous route, to ensure optimal absorption and effectiveness.
Telemedicine available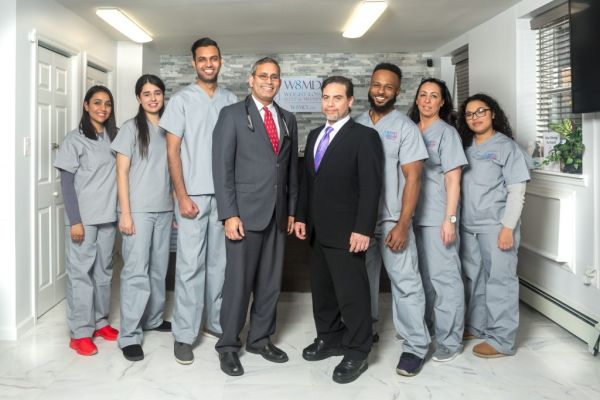 Amazing success stories
I started with Dr. Tumpati and W8MD in August 2014. I weighed 212 pounds. I am a five feet tall woman, at the time I was 56 years old. I was depressed, my cholesterol, blood pressure, and blood sugar were all elevated, and I was altogether miserable. At this writing, November 2019, I have lost and maintained 100 pounds. All my blood levels are now normal. I have energy, vitality, and if I say so myself, I look AMAZING!
Following the program, which can take a variety of forms, but for me means taking the doctor-prescribed medication and following a very low calorie very low carbohydrate diet, not only resulted in this dramatic 100 pound weight loss in just slightly over a year and my ability to continue to maintain my now healthy and desirable weight, but the amazing thing was that in very short order ALL cravings DISAPPEARED!!!
For me, adherence to the routine, monthly office visits, the ongoing support of the positive staff, and the continuing encouragement of Dr. Tumpati, all contribute to what I daily experience as a TRUE TRANSFORMATION. I cannot recommend this program enough! D.M.
Book appointments
Locations
W8MD Weight Loss, Sleep & Medspa has several locations for your convenience:
Philadelphia, PA: Philadelphia medical weight loss, sleep and medspa: 1718 Welsh Road, 2nd Floor, Philadelphia, PA 19115 Contact: (215)676-2334'
Wayne, PA: King of Prussia medical weight loss, sleep and medspa: 175 Strafford Avenue, Ste 1, lower level, Wayne, PA 19087 Contact: (215)676-2334'
Brooklyn, NY: NYC medical weight loss, sleep and medspa: 2632 E 21st St., Suite L2, Brooklyn, NY 11235 Contact: (718)946-5500
Cherry Hill, NJ: (Coming soon), tele visits available Location: 140 E Evesham Rd, Cherry Hill, NJ 08003 Contact:(215)676-2334'