W8MD weight loss doctors
Jump to navigation
Jump to search
Dr. Prab R. Tumpati, MD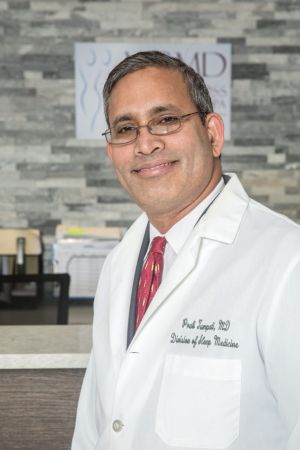 Dr. Prab R. Tumpati, MD is the founder of W8MD Weight Loss, Sleep and Medspa centers. He is a practicing board-certified internal medicine, sleep, and obesity medicine physician with a fellowship training in Obesity Medicine. As a practicing sleep medicine physician, Dr. Tumpati has seen many patients struggling with obesity and sleep disorders. He realized the inherent association between sleep disorders and weight and got significant additional education in Bariatric Medicine/Obesity Medicine.
Obesity Medicine
Dr. Tumpati is passionate about helping patients understand the role of nutrition in leading a healthy lifestyle. His focus is not only on helping patients lose weight but also educating them to maintain their weight loss and lead a healthy lifestyle. Dr. Tumpati also wants to raise awareness about obesity and over 50 related medical problems among the physician community by assisting them to add a W8MD physician supervised medical weight loss program at their office.
Founder and Medical Director
He has successfully integrated Obesity Medicine Services in his practice and started W8MD Medical Weight Loss Program. Dr. Tumpati is the Medical Director at Poly-Tech Sleep Services in Northeast Philadelphia and King of Prussia. He is also the medical director at the Brooklyn, New York office of W8MD Medical Weight Loss and Sleep Centers.
Medical Education
Dr. Tumpati obtained his medical degree from Osmania Medical College, India, and completed his Internal Medicine Residency at Abington Memorial Hospital. He is board certified in Sleep Medicine and has passed a written board examination in Obesity Medicine and is in the process of full certification. He is a member of several professional societies, including the American Society of Bariatric Physicians, American Academy of Sleep Medicine, and serves as the coordinator of the American Association of Physicians of Indian Origin in Sleep (AAPIOS).
Other interests
Apart from his medical profession, Dr. Tumpati is an entrepreneur who has started several successful projects and websites, including www.wikimd.com, www.wikichristian.org, and www.w8md.com. He is well-versed with many computer technologies and has designed and maintained several websites, including that of W8MD. Dr. Tumpati is married and lives in the greater Philadelphia area with his wife and two children. He believes in healthy locally grown food and to this effect, he has started his own farm in together with other like minded people in New Jersey called CropsByDocs.com.
Sleep Medicine and Aesthetic Medicine
Dr. Tumpati is not only experienced in the field of Obesity Medicine, but he is also board-certified in Sleep Medicine. He also received additional education and training in the field of aesthetic medicine. With his expertise in these fields, he can address any of the over 80 different sleep disorders and perform many aesthetic treatments such as Botox, Dermal fillers, photofacials, oxygen facials, microneedling, and more.
Our Story
W8MD Weight Loss, Sleep and Medspa was founded by an internal medicine and sleep medicine physician, Dr. Prab R. Tumpati, MD in suburban Philadelphia in late 2010. While working part-time in an internal medicine practice and performing disability physical exams, Dr. Tumpati found that many disability applicants had underlying weight and sleep-related issues in addition to musculoskeletal problems and depression. On one occasion, the physician saw an overweight African American woman who had symptoms of sleep apnea, such as loud snoring, excessive daytime sleepiness, and waking up choking occasionally. After conducting a sleep study, Dr. Tumpati determined that the patient had a severe case of sleep apnea and recommended CPAP treatment. Recognizing that the patient's underlying weight issue was a risk factor for sleep apnea, the physician offered weight loss advice, which involved eating less and exercising more. However, this advice did not result in meaningful weight loss.
Several weeks later, the same patient returned for a CPAP compliance check and mentioned that she was planning to travel to Dallas, Texas to lose weight. This piqued the physician's curiosity, and the patient shared that there was a physician in Dallas with a weight loss program that could help her lose weight. Intrigued, the physician researched the program and found that it was based on the HCG diet protocol, which the physician deemed controversial. This experience led the physician to discover the field of obesity medicine, also called bariatric medicine, and seek formal training in the field through the Bariatric Medicine Fellowship offered by the American Society of Bariatric Physicians.
Dr. Tumpati joined the fellowship program to gain additional training while continuing to work as a sleep medicine and internal medicine physician. In early 2014, after about 3.5 years since encountering the patient who traveled from Philadelphia to Dallas for weight loss, the physician had the pleasure of seeing a middle-aged man from Dallas in the Brooklyn office, who came to New York City to lose weight. This experience came full circle and further reinforced the physician's commitment to helping patients lose weight. Learn more...
Ready to try W8MD?
If you are struggling with obesity or any related medical problems, W8MD Weight Loss, Sleep and Medspa centers, under the guidance of Dr. Tumpati, can help you achieve your weight loss goals and lead a healthy lifestyle.
W8MD Weight Loss, Sleep & Medspa Centers
W8MD Weight Loss, Sleep & Medspa Centers is a network of medical centers located in New York, Pennsylvania, New Jersey and surrounding areas that provide comprehensive care for weight loss, sleep disorders, and aesthetic treatments.
Book appointments
Locations
W8MD has several locations for your convenience:
---